What is Data Box?
Microsoft azure databox cloud solution, it enables you to receive your large number of data transmissions quickly and reliably on azure. By sending a special data box storage device to you, secure data transfer is accelerated. The maximum usable storage capacity of each storage device is 80 TB and it is sent to the data center with a regional shipping company. The device is hardened to keep data protected and secure during transportation.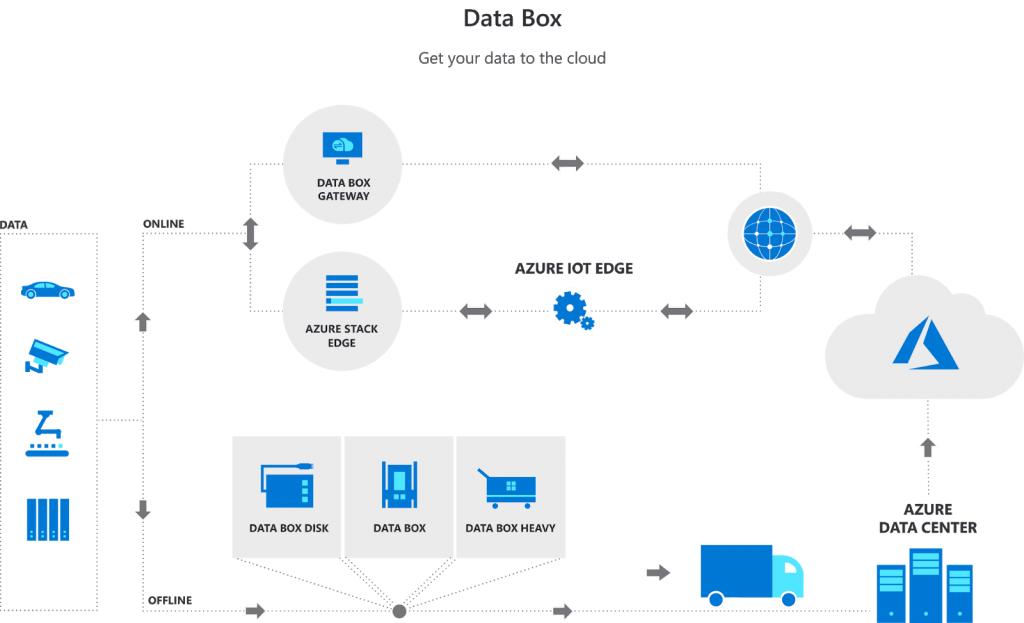 To import or export data from Azure, you can order the Data Box device through the azure portal. After you copy your data to the device with the device you receive, you will be able to access your data by sending it to the azure data center. You can follow this process on the portal again.
Data Box Types
Data Box Disk: It allows you to send terabytes of on-premises data to Azure quickly, cheaply, and reliably. Secure data transfer is accelerated by sending you 1 to 5 solid state disks (SSDs). These 8 TB encrypted drives are sent to your data center via a regional carrier.
Data Box Heavy: It allows you to send hundreds of terabytes of data to Azure quickly, cheaply, and reliably. You send a Data Box Heavy device with a storage capacity of 1 PB that you send back to Microsoft and transferred to Azure.
Data Box Gateway: It is a storage solution that allows you to send data to Azure seamlessly. This article provides you with an overview of the Azure Data Box Gateway solution, its benefits, core capabilities, and scenarios in which you can deploy this device.

Scope of Application
Data Box, Ideal for data transfers larger than 40 TB in scenarios with no or limited network connectivity. Data migration can consist of one-off, regular, or bulk data transfer and then regular transfers.
Various scenarios that can be used to transfer data to Data Box Azure are given below.
One-time migration: Migrating large amounts of on-premises data to Azure.

First batch transfer: It is the realization of incremental transfer operations over the network after collective data transfer with Data Box (seed).

Regular uploads: These are situations when large amounts of data generated regularly need to be migrated to Azure. Videos created at oil wells and wind power plants are examples of energy exploration.
Benefits
Data Box is designed to move large amounts of data to Azure with little or no network impact. The solution has the following benefits:
Fast – Data Box uses 1 Gbps or 10 Gbps network interfaces to move up to 80 TB of data to and outside of Azure.
Secure – Data Box has built-in security protections for device, data, and service.
The device has a robust casing fixed with tamper proof screws and tamper proof tags.
The data on the device is always secured with AES 256-bit encryption.
The device can only be unlocked with a password provided in the Azure portal.
The service is protected by Azure security features.
After your data is uploaded to Azure for an import order, the disks on the device are deleted in accordance with NIST 800-88r1 standards. For the export order, the disks are erased when the device reaches the Azure data center.
Bu içeriği beğendiniz mi?